Singapore Scouser Turns Home Into Liverpool FC Shrine
Story By: Lee Bullen, Sub Editor: Michael Leidig, Agency:  Newsflash
A huge Liverpool fan from Singapore has said that his wife deserves a statue like championship-winning manager Jurgen Klopp after allowing their home to be turned into a shrine to his beloved football club.
Mohammed Fazail, 34, posted a video tour of his renovated home in the island city-state of Singapore on Facebook where it is going viral with nearly 700,000 views.
The footage shows the 'Singaporean scouser' arriving at his front door, emblazoned with Liverpool's crest and associated slogans, before going inside to the club's anthem 'You'll Never Walk Alone' by Gerry & The Pacemakers.
The video then cuts to a montage of Liverpool memorabilia adorning his flat, including a display case of club merchandise, an impressive collection of shirts and tea mugs, as well as a hallway lined with framed home-and-away strips.
Fazail accompanied the video with the message: "As much as Klopp needs a statue, I need to build one for my wife for doing this."
Facebook user 'Gopal Krishna' said: "You're a genuine fan Fazail. Liverpool FC will be proud of you!"
'Muru Red' commented: "A beautiful shrine you have there in your mini Anfield bro…it's fantastic!"
Fazail, who works at a science centre in Singapore, told Newsflash: "I have been a Liverpool fan since I was very young because my dad is a massive fan.
"When I was 10, my dad forgot to wake me up for one game and I got so upset. Ever since then, I haven't missed a single match, including pre-season friendlies!
"My life revolves around my family and Liverpool. I plan my work schedule around Liverpool matches."
He added: "My whole family supports Liverpool and it's like a tradition to watch games together at home.
"I will happily miss get-togethers, a friend's birthday or other events if there is a Liverpool match on.
"I started collecting stickers and posters when I was young and there wasn't that much stuff back then.
"One of my favourite items is (former player) Dirk Kuyt's training kit. It's not in the video, but it's my favourite."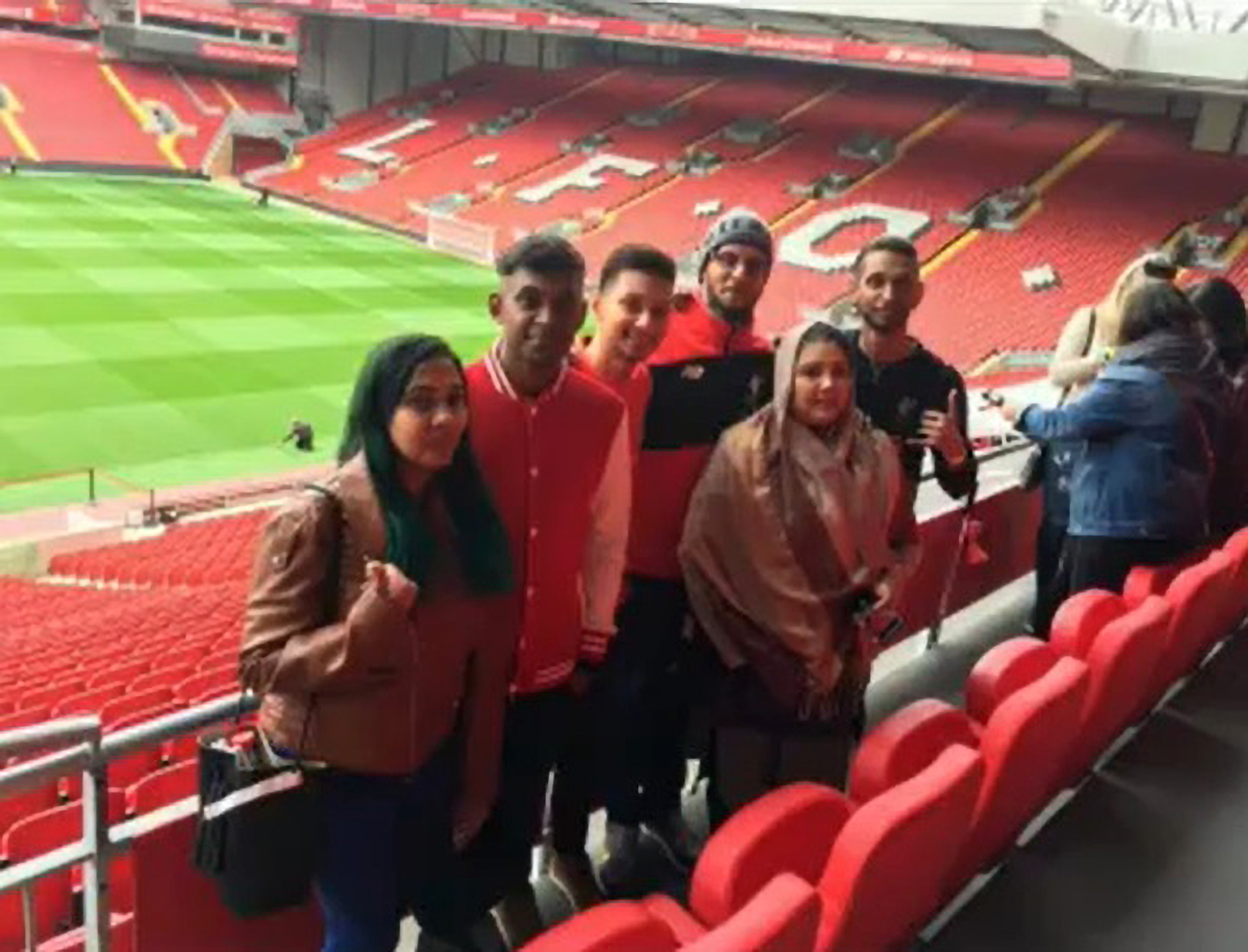 Fazail told Newsflash: "When Liverpool came to Singapore, they went on a boat ride and I ran after them during the whole thing. Dirk Kuyt saw me doing it and gave me his training kit."
"I have so many football shirts, I've lost count."
The die-hard fan added: "Ever since I was a kid I've only had one dream, to take my dad to Anfield and watch a live game. With a lot of hard work I made that dream come true.
"That was probably the best moment for me."
Fazail told Newsflash: "I'm very lucky to have a wife like mine who lets me turn our home into a Liverpool shrine. She is very understanding and supports my passion.
"Winning the Premier League was surreal. I'm a 'Kloppoholic', he's the best thing to happen to us for a very long time. Since King Kenny, my favourite two managers of all time."
Liverpool will lift their first league trophy in 30 years at the end of their final home game of the season against Chelsea tonight (22nd July).