Moment US Cops Shoot Suspect Who Grabbed Police Gun
Story By: Lee Bullen, Sub Editor: Michael Leidig, Agency:  Newsflash
The San Diego Police have released this multi-angle footage of the shooting of a Hispanic detainee who reportedly slipped out of his cuffs and grabbed a service revolver – requiring the cops to shoot him in the torso and set a dog on him.
The suspect, identified as 25-year-old Keith Bergman, was arrested after an incident at a hotel in the US city of San Diego on 5th July at around 6.20pm, according to San Diego digital channel KGTV.
A hotel security guard said that Bergman was allegedly "acting strange" and threatening other people.
The San Diego Police Department (SDPD) said they found methamphetamine (potent central nervous system stimulant) and five credit cards belonging to other people in his pockets.
The police brought the suspect back to the SDPD headquarters where he reportedly managed to slip one hand out of his cuffs while inside the patrol SUV.
Bergman then broke the divider between the prisoner seat and the boot area where he found an officer's backpack with a reserve firearm, according to reports.
The police drew their guns and told Bergman to drop the weapon, however, he reportedly refused and fired at least one shot from the back of the SUV.
In response, a cop fired at least one round at the armed suspect and he was hit in the torso.
The injured man, described by the police as Hispanic, then managed to open the SUV door and tried to open the boot while ignoring the officers' pleas to stop.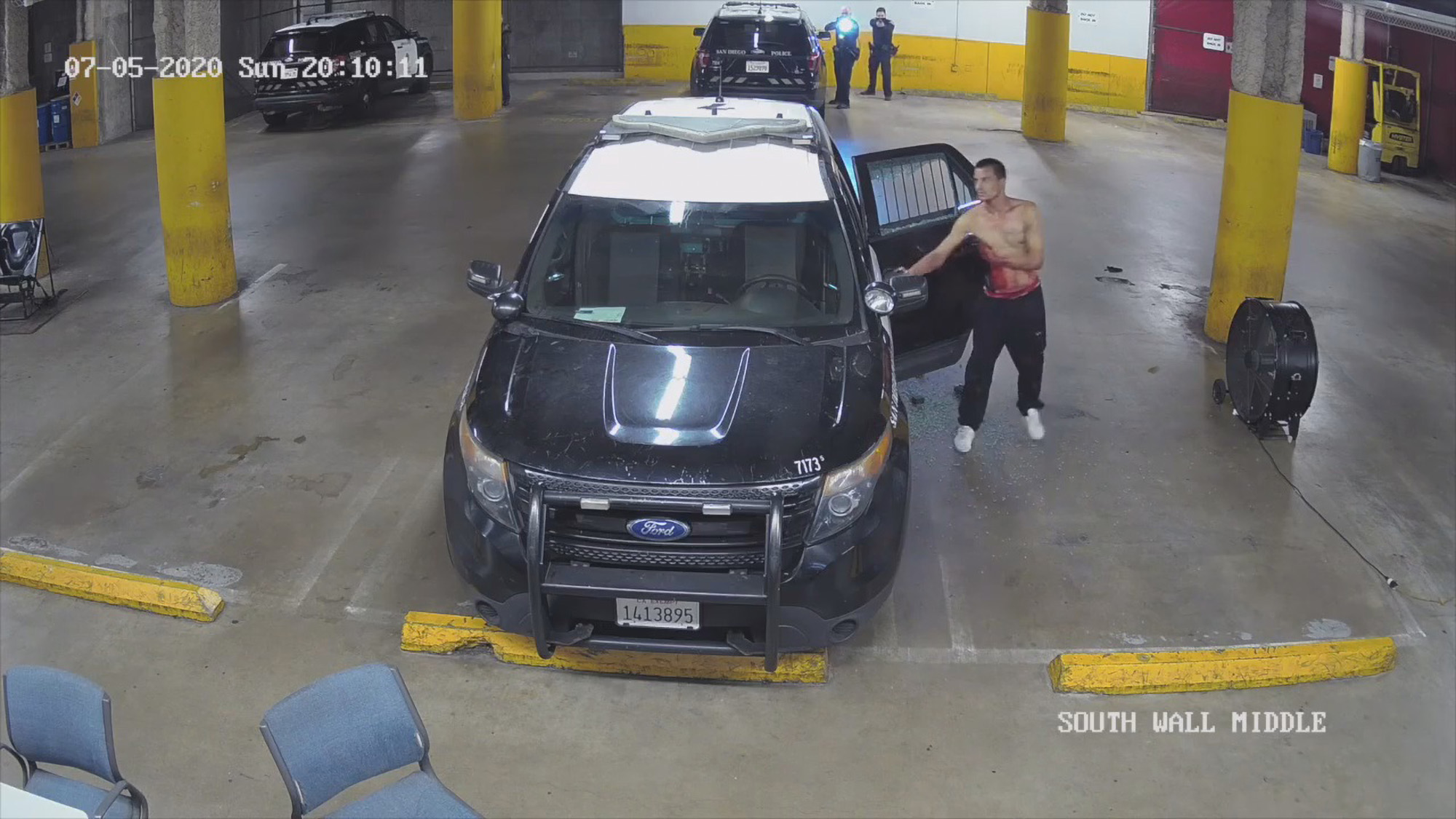 In the multi-angle footage, which includes sound after the two-minute mark, several SDPD officers are seen drawing their weapons and calling on the suspect to show his hands after realising he had slipped out of the cuffs.
One cop then says "he has a gun" and the officers back off.
In the next scenes, several gunshots are heard and Bergman then exits the SUV and calmly walks to the boot while apparently covered in blood.
Holding a bloodied wound on his right side, the suspect then attempts to open the driver's door and several shots are fired at the windscreen to apparently keep him away.
Bergman falls to the ground and the police then release a dog to neutralise him.
The SDPD said that officers provided first aid at the scene before taking the suspect to hospital with "non-life threatening injuries".
The SDPD identified three officers involved in the incident as Paul Yi, Michael Rodriguez, and Timothy Arreola.
The department's Homicide Unit will carry out an investigation into the shooting and the San Diego County District Attorney's Office said they review the footage to see if any officers are culpable of any criminal liability.
The Internal Affairs Unit and the Shooting Review Board will also review the incident.
Meanwhile, the FBI and US Attorney's Office will also reportedly monitor the investigation.