Story By: Joseph Golder, Sub-Editor: Michel Leidig, Agency: Central European News
Customers are boycotting French cosmetics giant L'Oreal after the brand announced it would remove the words "white" and "whitening" from its products, but would still continue selling them.
The move angered activists who had already forced other big names to pull similar items from the shelves.
The decision to boycott L'Oreal products comes after France's "most powerful" brand reportedly decided to shelve words such as "white", "whitening" and "clear", as well as "fair", "fairness", "light" and "lightening" from products.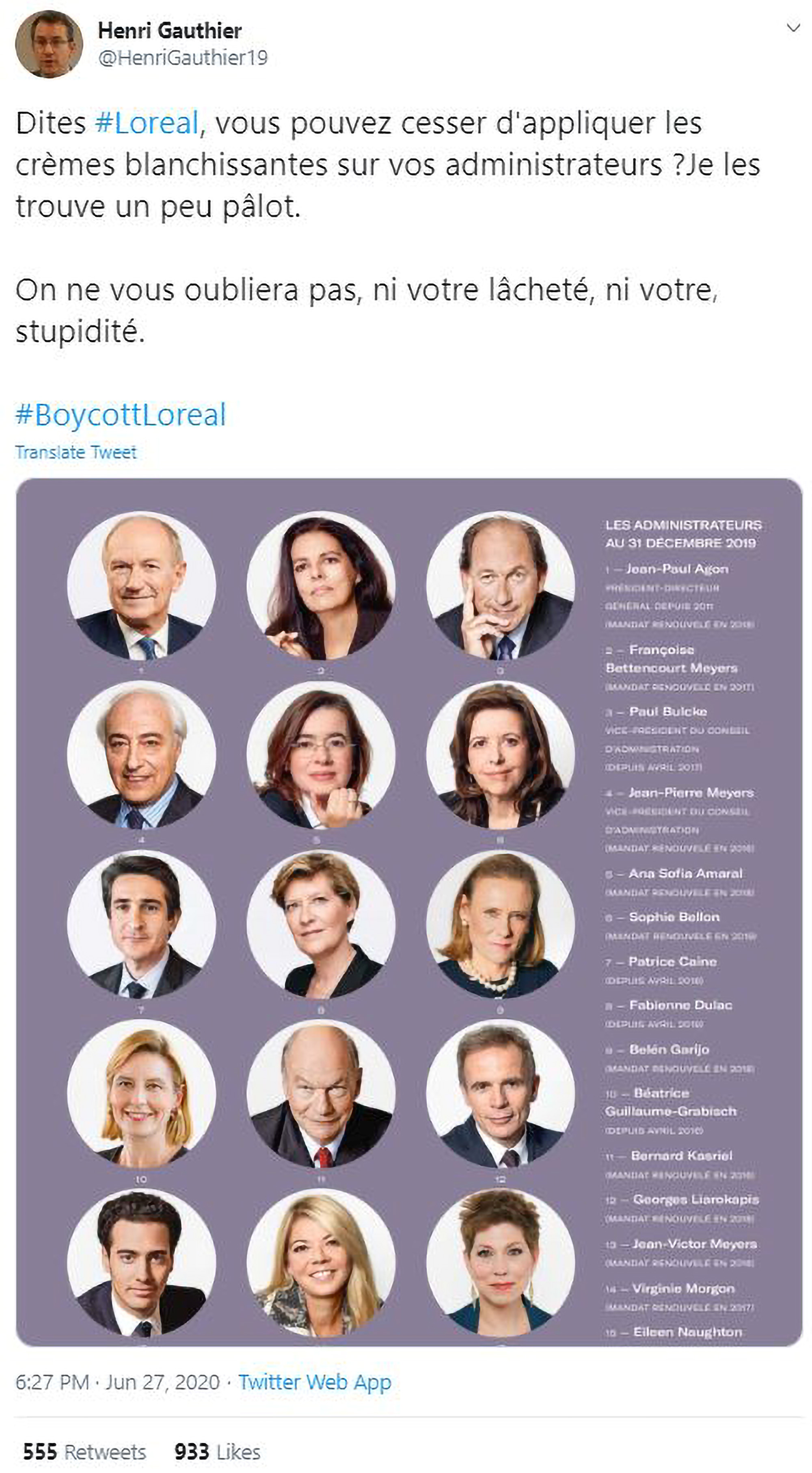 But critics say it was only a PR bid that was only paying lip service to support anti-racism movements in the wake of George Floyd's death at the hands of American police officers because the products were still on sale.
L'Oreal was the latest top brand to respond to the Black Lives Matter movement after Unilever, Johnson & Johnson, and Mars all came up with responses to the movement and to worldwide racial tension.
Several firms including L'Oreal had been criticised of late for skin-lightening products but their latest decision is being met with a torrent of protest in France, where customers are calling for a boycott on the firm and slamming the move as "dumb".
According to French TV channel BFMTV, the announcement was made on Saturday (27th June) and numerous celebrities, politicians and netizens have reacted, with anti-racism activists even slamming the move and labelling it an exercise in brand communication thinly veiled as caring.
Numerous netizens have shared posts criticising the move and posting videos of themselves binning the brand's products. The hashtag #JarreteLoreal ('I'm quitting L'Oreal') and #BoycottLoreal are trending on Twitter in France.
'BodinTv' said: "I'm quitting L'Oreal because I am worth more, because they do not deserve my money. Because they harm."
And 'AurelDaubercies' said: "Because it isn't worth it anymore!!!"
'ainoht_Fr' said: "After Nutella, Ferrero, the MAIF [insurance company], and more, I'm quitting L'Oreal. I hope your stupid decision leads to your downfall. – A white person."
While 'AnabellePerso' added: "One loyal customer less."
'CampilloMichel' said: "L'Oreal is removing the words "white" and "whitening" from its products?" And they posted a six-second video of a L'Oreal product being binned. The video had 107,400 views at the time of writing.
And 'lavilledusud' said: "If L'Oreal don't want white people anymore… I don't want them to make me tan anymore!" They also posted a video of a L'Oreal tanning product being binned. The footage had 141,500 views at the time of writing.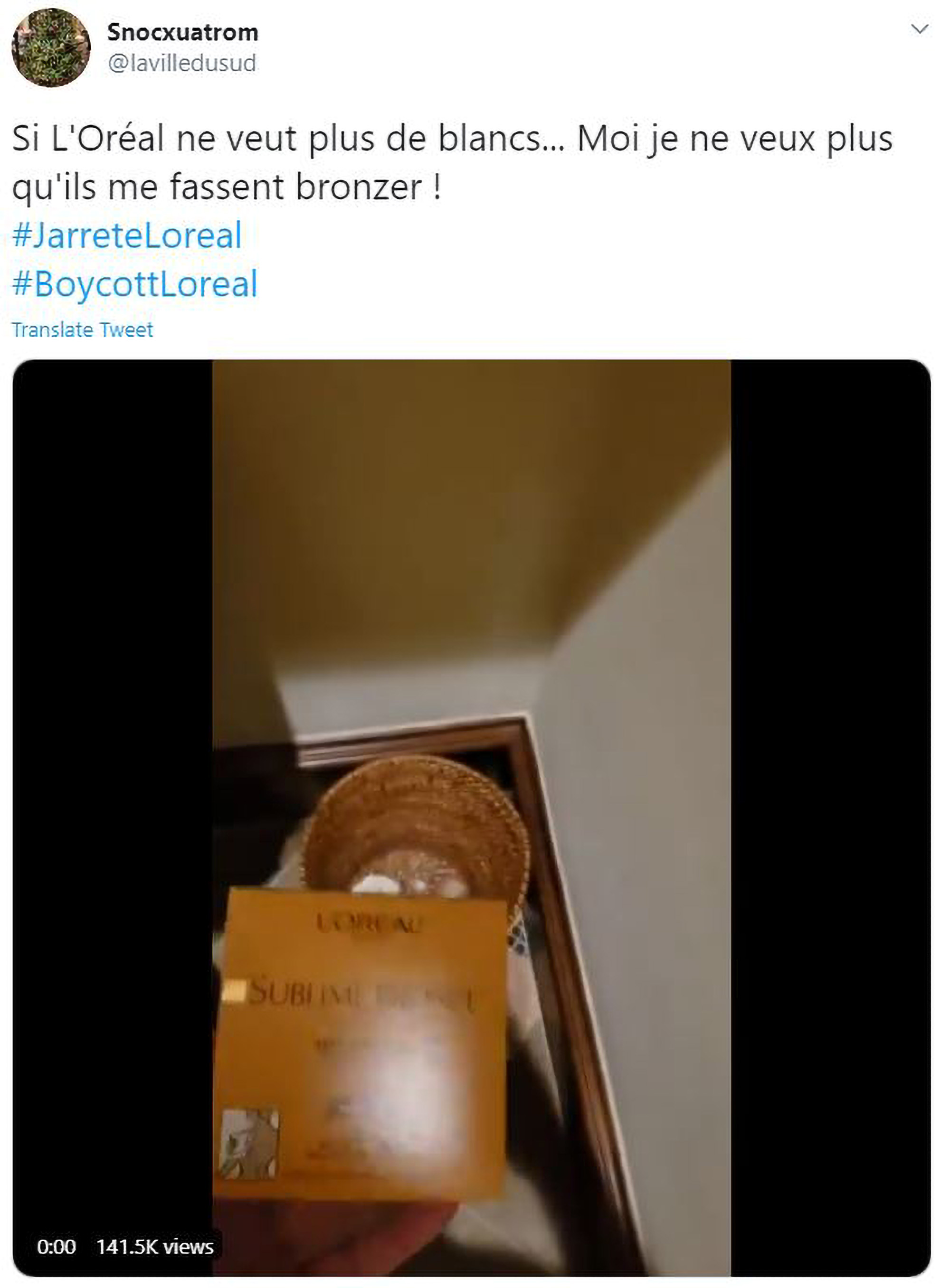 'solauw13' asked: "Do we need to rename the White House?"
And 'aceinnice' said: "And I'm really scared for Snow White?"
'Pssshitt' asked: "Hey, L'Oreal, your gel to get rid of black spots, isn't it a bit racist?"
While 'HenriGauthier19' shared a picture of the L'Oreal board of directors and said: "Hey, L'Oreal, could you stop putting skin whitening creams on your board? I find them a bit pale. We won't forget you, not your cowardice, nor your stupidity."
L'Oreal is France's "most powerful" brand, according to London-based brand valuation consultancy Brand Finance.