Cops Broke Journo's Arm At Constitution Vote In Russia
Story By: Gheorghi Caraseni, Sub Editor: Michael Leidig, Agency: Newsflash
This is the moment a Russian journalist gets his arm broken by cops as they try and pull him out of a polling station where he said he was investigating irregularities in the elections.
The incident happened at the 2191 polling station in the city of St Petersburg in the western Russian region of Leningrad Oblast, where the constitutional referendum is being held.
The journalist, David Frenkel, works for MediaZone, an alternative media outlet which focuses on the judicial, law enforcement and penal system in Russia.
Frenkel told local media he went to the polling station to investigate reported irregularities during the referendum and had been trying to get inside when the incident happened.
A shocking video shows the young-looking man at the entrance to the polling station talking to a masked employee and surrounded by two police officers and various members of the public.
One of the police officers pushes him away and he tries to resist, the officer grabs hold of him, helped by a member of the public.
They wrestle the resisting journalist down onto the floor when suddenly a loud crack and an agonising scream can be heard.
Another video filmed by Frenkel shows the scene following his arm being broken, from where he was lying on the floor.
The journalist told local media: "The policeman with ID number 009175 tried to kick me out of the polling station and broke my arm."
Images shared on social media show the journalist with his arm totally bandaged, in what looks to be a hospital waiting room, although he has not shared any more information about his current state.
Frenkel identified the policeman who broke his arm as Denis Dmitriyev, 26, and "suspicious election observer" Dmitry Abramov, a former council member of the ruling United Russia party.
According to media sources, local police have denied accusations of anything illegal, saying: "It was not an assault but assistance in getting the person out of the polling station."
There has been no further news as to whether Frenkel has filed charges against the two men who he identified as those responsible for breaking his arm.
MediaZone is a news outlet started by two members of Russian punk rock band Pussy Riot, Maria Alyokhina and Nadezhda Tolokonnikova, after getting out of prison where they spent almost two years on charges of "hooliganism" motivated by "religious hatred."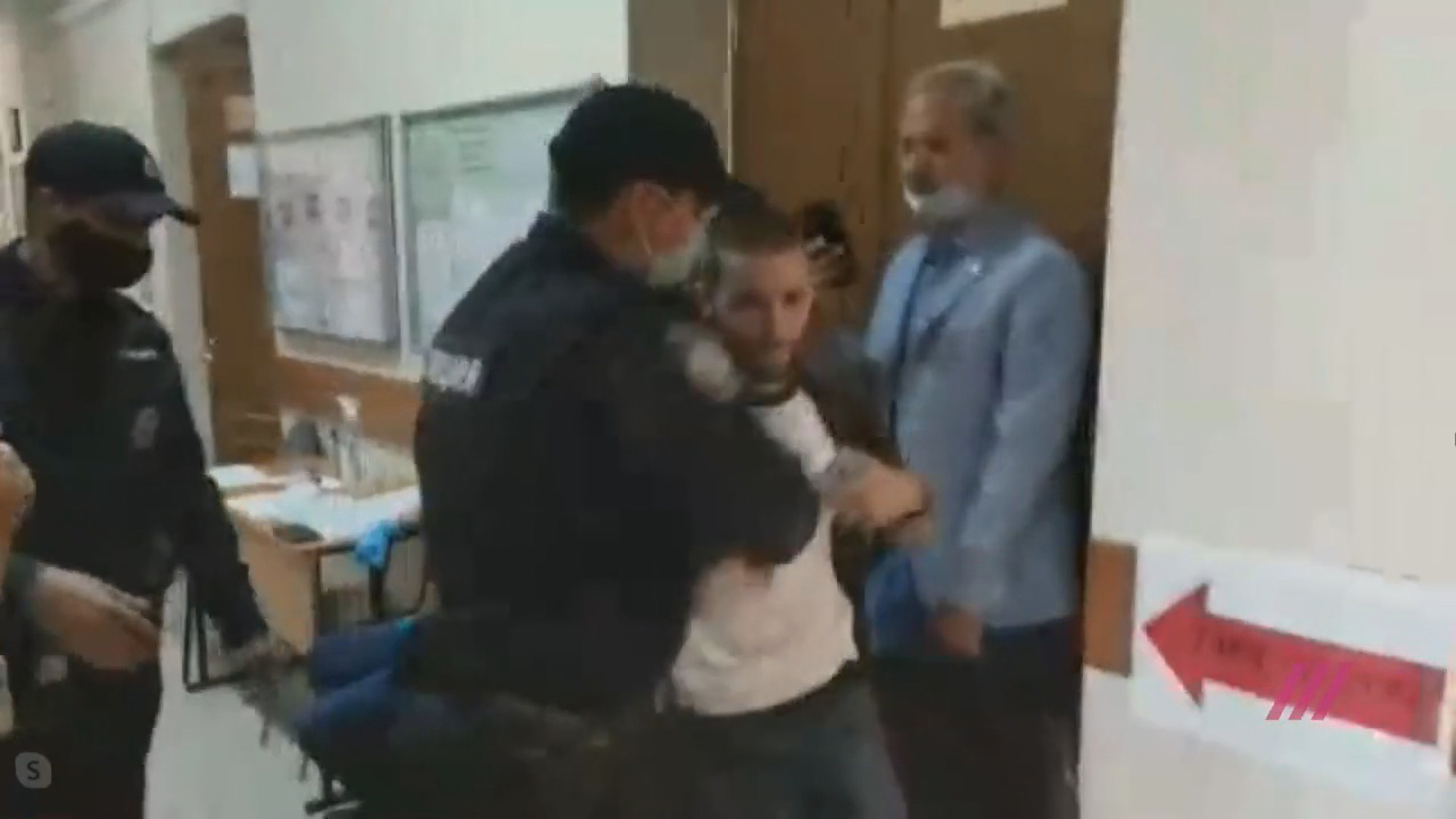 According to media sources, the punk band held a concert during which they told the audience to pray to the Virgin Mary to protect the country against Vladimir Putin, who was re-elected as Russia's president a few days later.
The former Punk Band members report having lived "slave-like" conditions in the jail and numerous abuses, which motivated them to create a news outlet which sheds light on injustices perpetrated by the ruling institutions.