Story By: Joseph Golder, Sub-Editor: Joseph Golder, Agency: Newsflash
Four French police officers are now under investigation after transcriptions given to French media by a dead delivery man's family reportedly reveal he shouted "I'm suffocating" seven times during his arrest by cops who allegedly held him in a chokehold.
Cedric Chouviat's last words are not unlike those of George Floyd, who said "I can't breathe" minutes before dying on the ground with a police officer's knee in his back.
Chouviat, 42, was a delivery man in Paris who was forcefully arrested on 3rd January before dying two days later of asphyxia and a broken larynx at the Georges Pompidou hospital.
But it has now been revealed that he said "I'm suffocating" seven times before losing consciousness, according to the independent investigative newspaper Mediapart and according to the French newspaper Le Monde.
While witnesses filmed the incident, both newspapers have reportedly seen transcripts from nine videos that Chouviat himself filmed during the 12-minute incident.
Chouviat, a father of five, reportedly said he could not breathe a total of seven times in under thirty seconds as the four police officers pinned him down, as can be seen in other footage of the incident shared online by the Human Rights League (Ligue des droits de l'homme; LDH).
French newspaper Le Monde reported that the officers originally said they had stopped the victim for looking at his smartphone while he was riding his scooter and because his licence plate was dirty.
The officers had claimed that the victim had "insulted" them and been "aggressive."
While Chouviat did call them "clowns", when he asked one officer to say "please", the officer reportedly replied: "Yeah and you think I'm going to get down on all fours and suck your d*ck!?"
While the incident reportedly almost ended peacefully numerous times, it ended up finishing tragically when Chouviat called the officers "buffoons", leading to the reply: "We're bringing him in."
Witnesses reportedly told Le Monde that the police officers had held Mr Chouviat in a chokehold, a controversial move that is illegal in numerous countries.
Now investigators are looking into whether the four police officers, who have not been named, should be charged over Chouviat's death.
Laurent-Franck Lienard, the lawyer for two of the four police officers, had said shortly after the incident that he believed that the victim could not have been subjected to a chokehold, due to his motorcycle helmet. It was therefore the weight of the agents on his back that allegedly caused the tragedy, according to him.
AFP have reported that one of the officers' lawyers, Thibault de Montbrial, declined to comment on the latest reports that are making headlines in France.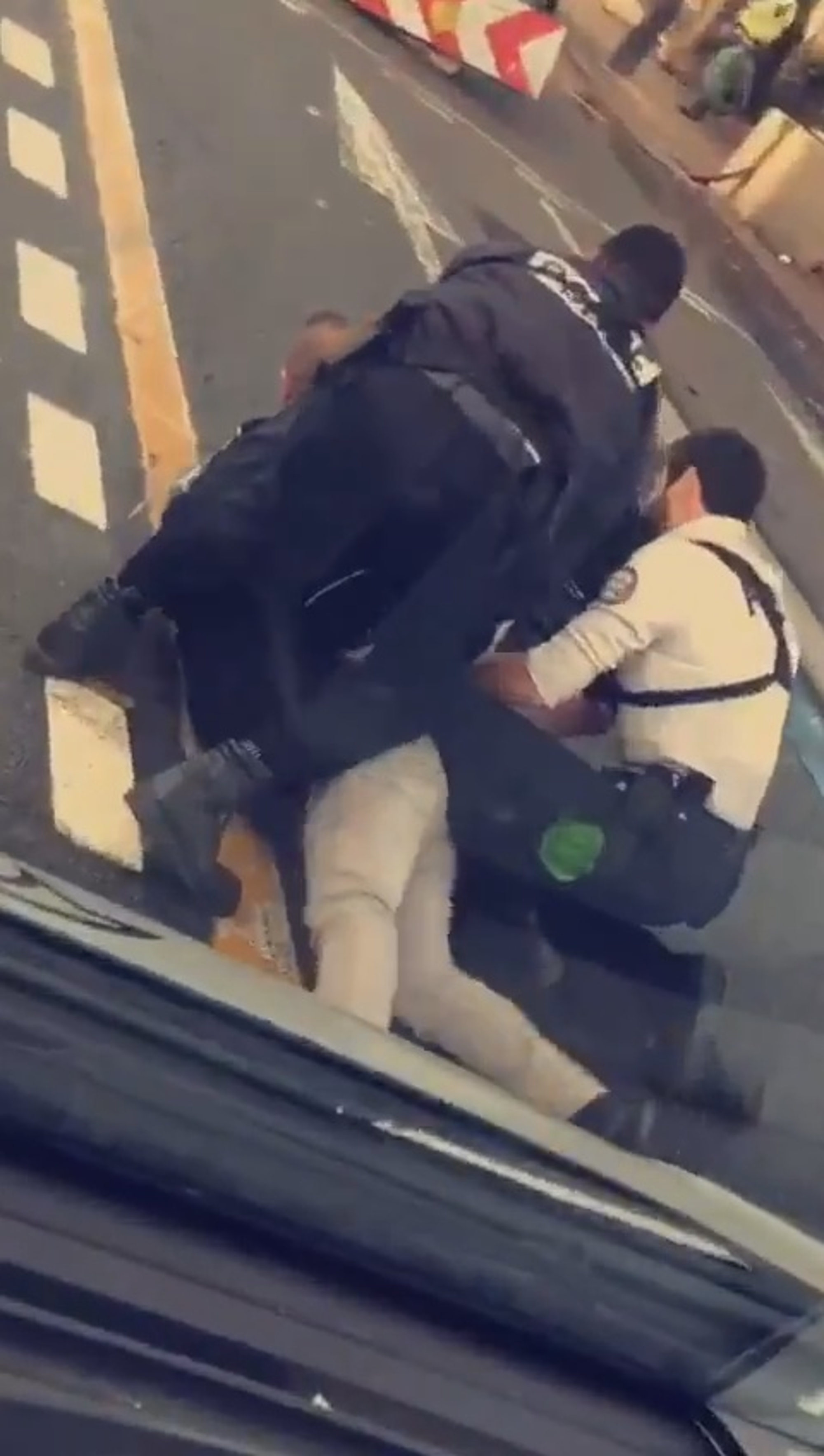 Chouviat's family have filed a complaint, accusing the four officers of using "dangerous" techniques and claiming that the use of force against him was unwarranted. Christian Chouviat, the father of the victim, said on 7th January: "My son has been assassinated. This is murder."
Christian added: "My son wasn't attacked by a yob or by a dealer. It was the police. The national police."
The four officers were reportedly detained on Wednesday 17th June and have been questioned by the IGPN (Inspection Generale de la Police Nationale – France's Internal Affairs), according to at least one report (by French newspaper L'Express).
A case has been opened for "involuntary homicide."