Outrage At Snap Of New Mayors Team Showing The Finger
Story By: Joseph Golder, Sub-Editor: Michel Leidig, Agency: Central European News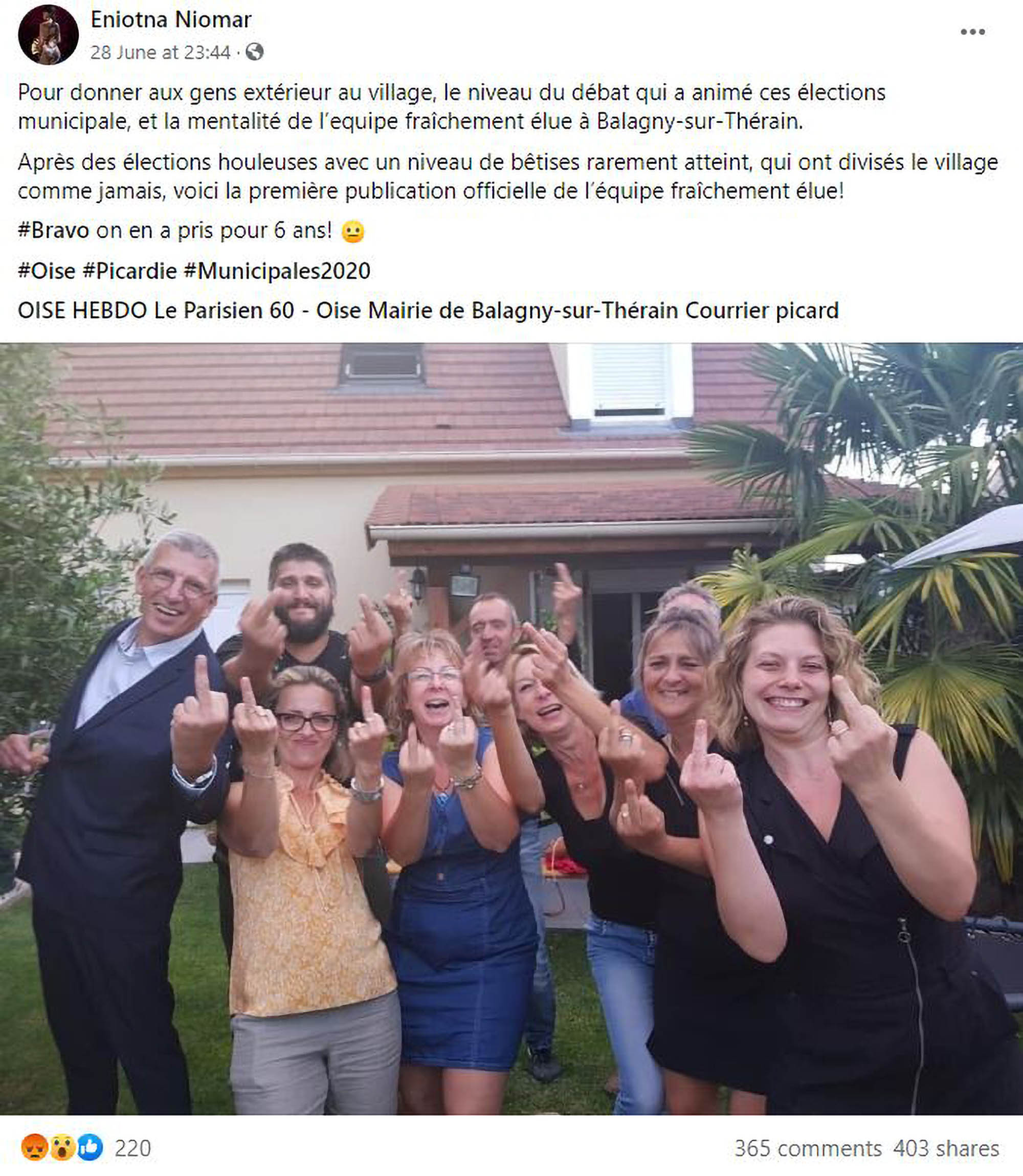 This photo showing the recently elected team of a Mayor in France giving the camera the finger has caused outrage across the country and calls for the newly elected official and his staff to step down.
France held municipal elections last Sunday and all over the country new teams were sworn in to govern villages, towns and cities, but in Balagny-sur-Therain, in the Oise department in northern France, the transition does not appear to be going very smoothly.
A local shared this picture showing nine members of the newly elected town council giving the camera the finger on Facebook on Sunday evening (28th June). Yesterday, France's newspapers published it and the country is reacting with outrage.
The image was posted by netizen 'Eniotna Niomar', whose account name is that spelled backwards – 'Antoine Marion'.
According to French radio station FranceInfo, the photo was taken at a party the winning candidate's team had thrown to celebrate their victory on the ballots.
The mayor-elect, Philippe Marechal, was not present at the event. The photo was first shared by his running mate Angie Monribot on her Facebook page and it reportedly quickly went round the houses in the small village of 1,700 souls.
The prefect of the Oise department, Louis Le Franc, also reportedly received complaints about the photograph.
Some locals from the town have started a petition calling for the elected officials seen in the picture to resign. According to French newspapers Le Parisien and Le Depeche, it in part reads: "This obscene gesture is an insult to the Republic, to democracy and to the people. This act degrades the image of our dear village."
It also calls for the team's "resignation".
The outgoing mayor of the commune, Marie-Odile Guillou, told FranceInfo: "The inhabitants are shocked, outraged. I am sad for my village. It gives a very bad image. When you are elected, you must remain worthy. We can party, drink champagne but not give the finger."
On 29th June, she reportedly sent the picture by email to the mayors of the surrounding villages.
Contacted by FranceInfo, the future mayor, Mr Marechal, pointed out that he was not in the picture, but defended his team, saying: "This photo has been diverted from its goal. It was not intended to insult the public. We will file a defamation complaint, especially since the photo was distributed this Monday throughout the village."
He added that he would explain himself "directly to the public and to the gendarmerie" and condemned the photograph, saying he would "sort it out with his team."
As for the running mate Angie Monribot, she indicated to FranceInfo that "these fingers, it was a joke" to "relax". According to her, it was a difficult campaign that pushed them to make this gesture.
She claims that she, like the others, was harassed for three months during lockdown, adding that she was "verbally threatened and defamed on social media".
She added: "It was a private party. The photo was stolen from my Facebook profile and I will therefore file a complaint. All of this will be settled in court."